すべてのイベントは終了いたしました。多くの方々にご参加いただき、どうもありがとうございました。
昼の部は終了いたしました。夜の部の開始前になりましたら再度お越しください。
All the events have finished. Thank you for your participation!
The afternoon event has finished. Please come back for the evening event at 10:00pm (JST).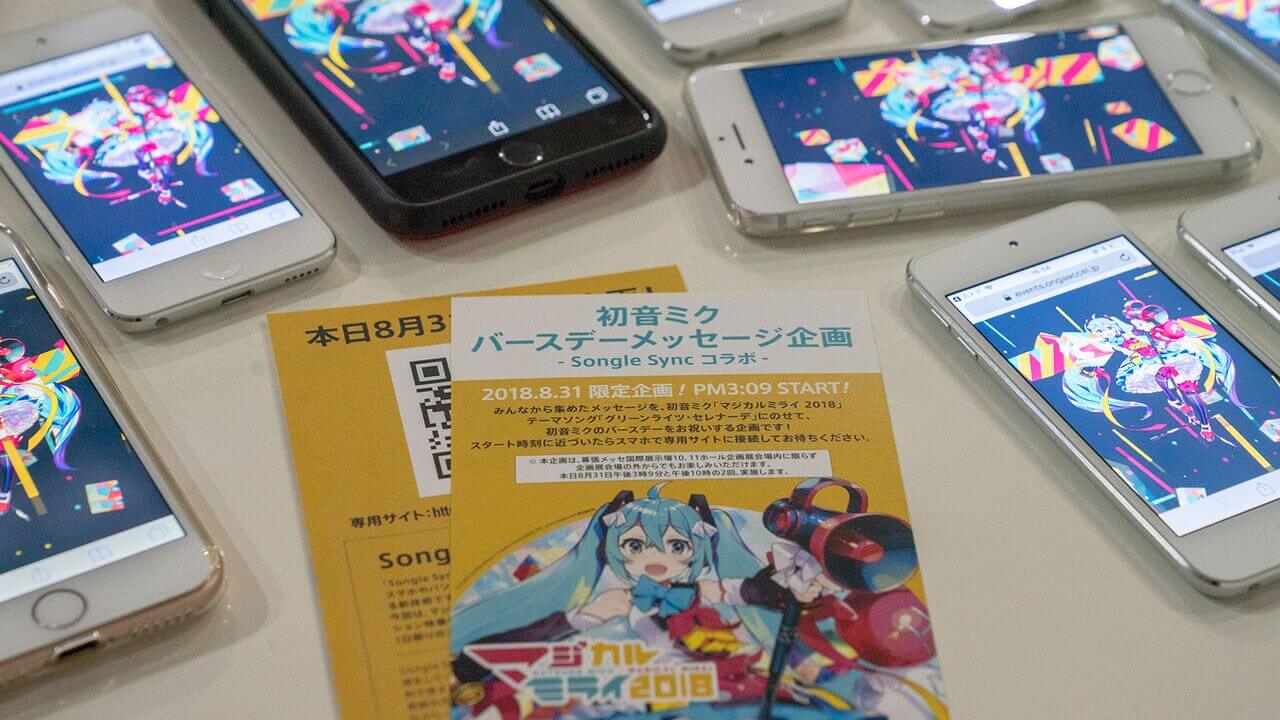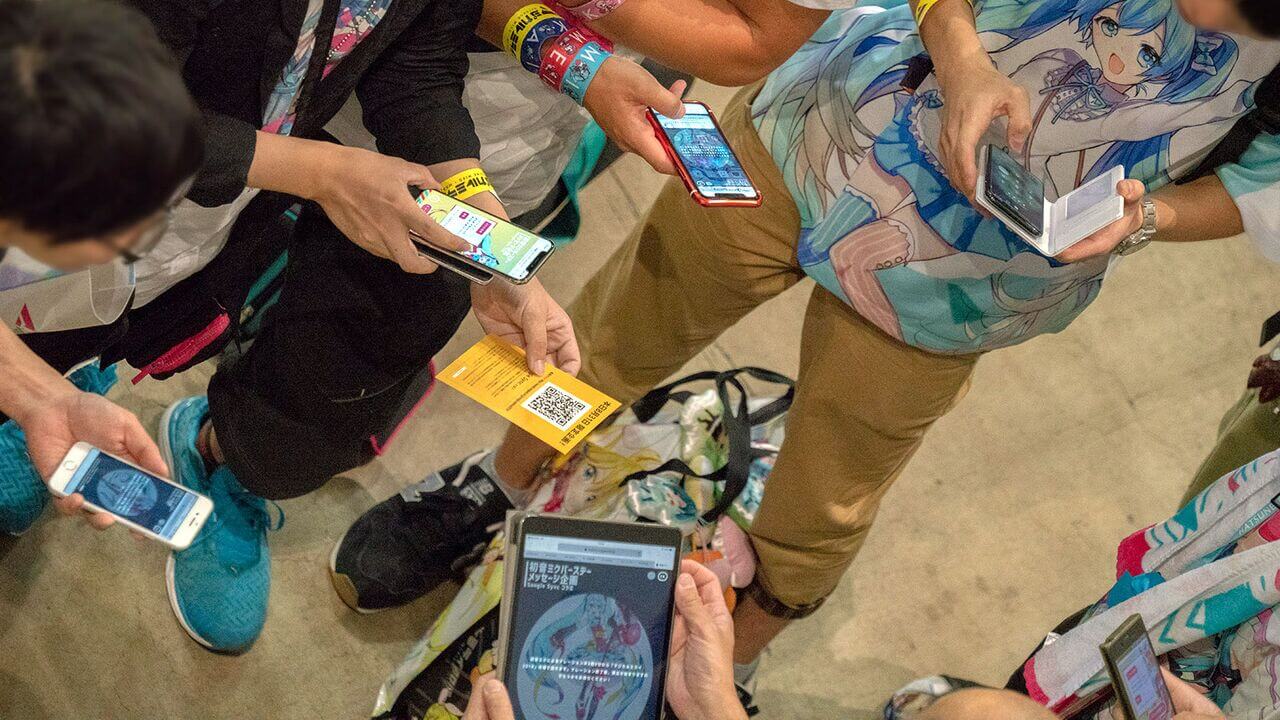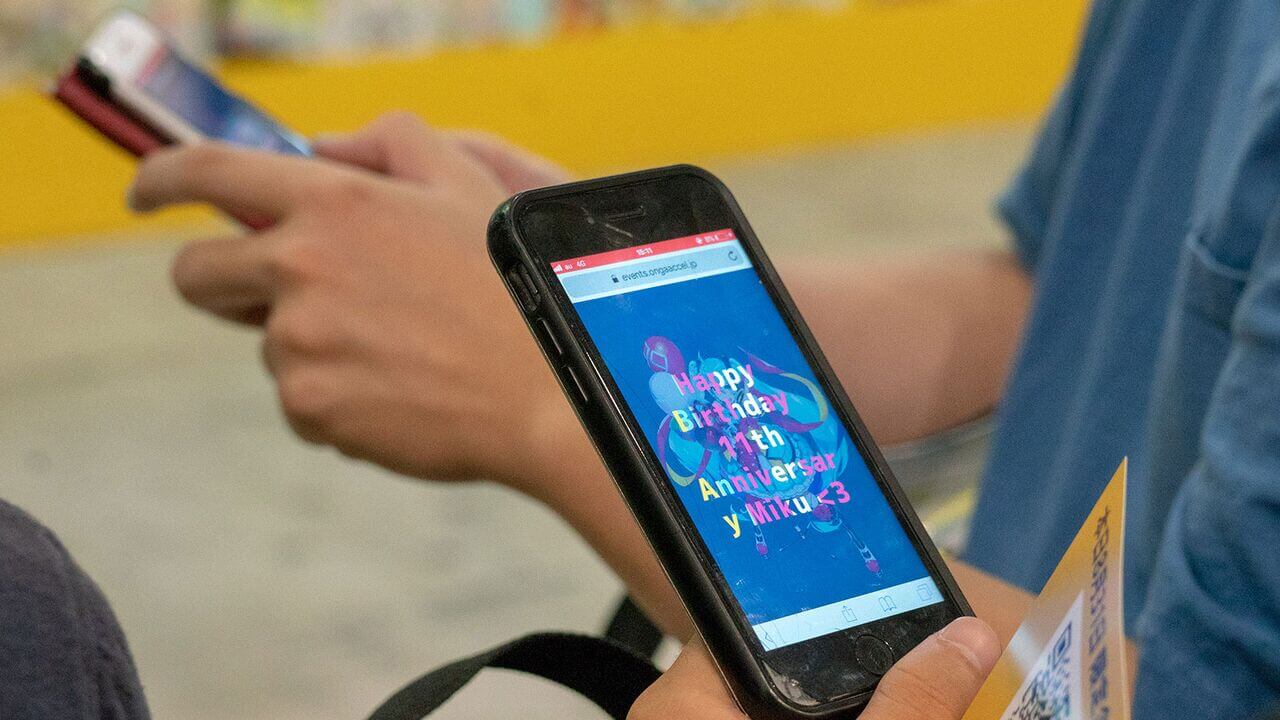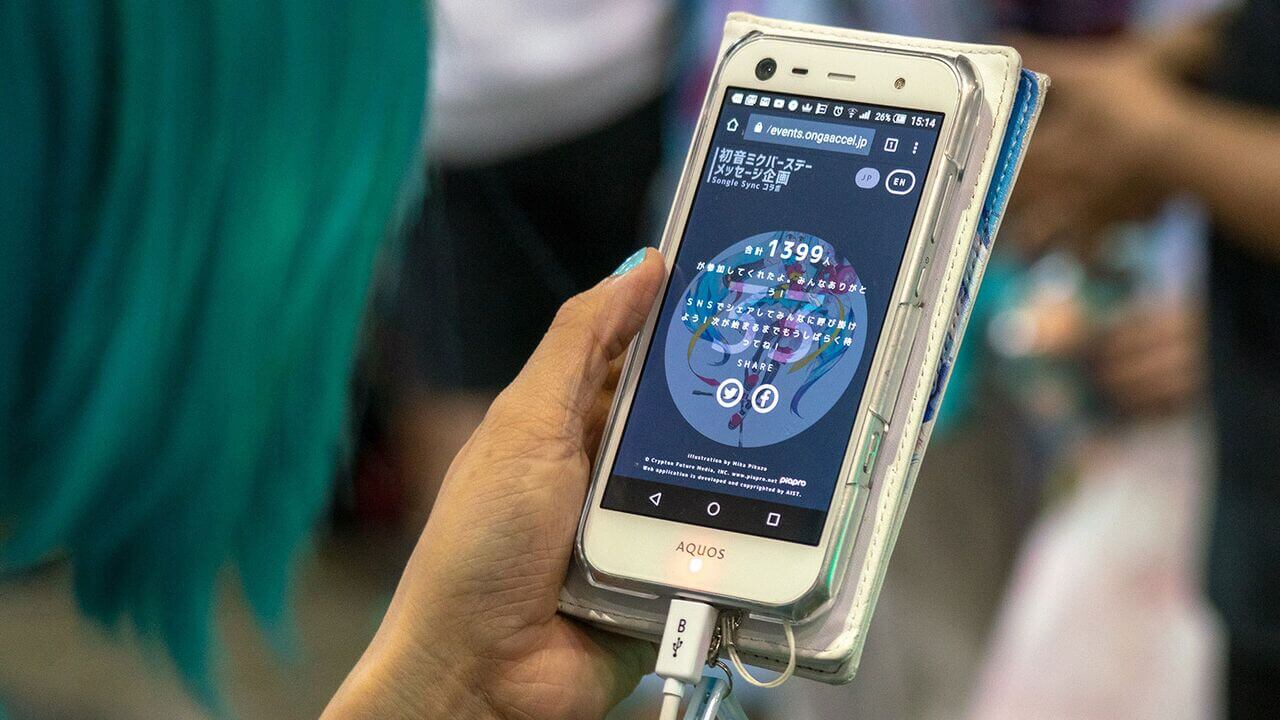 初音ミクの誕生日である8月31日を記念して、誕生日をみんなで祝うユーザー参加型イベント企画です!
本企画では、Omoi氏による初音ミク「マジカルミライ 2018」テーマソング「グリーンライツ・セレナーデ」に乗せて、daniwell氏によるSongle Syncを利用した映像演出をお楽しみいただけます。
また、演出中で使用される「初音ミク バースデーメッセージ」をイベントに先立って募集しています。下記募集ページよりぜひお寄せください!
初音ミク
バースデーメッセージ募集!
バースデーメッセージの募集は終了いたしました。沢山のメッセージをありがとうございました。
This is a special collective birthday message project that lets everyone celebrate Hatsune Miku's birthday on August 31st!
In this project, you can enjoy motion graphics created by daniwell by using Songle Sync while listening to the theme song of Magical Mirai 2018 "Greenlights Serenade", created by Omoi.
You are invited to submit special birthday messages for Hatsune Miku in advance, which will be used in the event. Please send your message from the following page!
Submit your birthday message
for Hatsune Miku!!
Submit your birthday message
for Hatsune Miku!!
Thank you very much for sending many birthday messages! The message submission is finished.
昼の部・夜の部ともに開始時刻より複数回繰り返し実施します。
演出中で使用されるバースデーメッセージは毎回異なります。
昼の部の初回は「マジカルミライ 2018」の企画展会場全体に音楽を流しながら実施します。
参加するためには、YouTube上の「グリーンライツ・セレナーデ」を再生できる必要があります。
Notes:
In both afternoon and evening events, the performance will be repeated multiple times.
Birthday messages shown during the performance will be different every time.
Music of the first performance in the afternoon event will be played throughout the entire Exhibition Hall of Magical Mirai 2018.
To join this event, your device needs to be able to play "Greenlights Serenade" on YouTube.
高校時代の同級生Sakurai(作詞/作曲/調声/ドラム)とKimura(シンセサイザー/キーボード)により結成された男女二人組音楽ユニット。
2013年活動開始。シンセサイザーを主軸にしたロックサウンドと、初音ミクによる感情的なボーカルが特徴。
Omoi is a male-female musical duo consisting of former high-school classmates, Sakurai (lyrics / composition / vocal parameter tuning / drums) and Kimura (synthesizer / keyboard).
Starting in 2013, their sound consists of rock featuring synthesizers as well as emotional vocals of Hatsune Miku.
作詞作曲に加え、デザインや映像制作、プログラミングを駆使したインタラクティブなコンテンツの制作なども行うマルチクリエイター。
ニコニコ動画に投稿した初音ミクオリジナル曲「Nyanyanyanyanyanyanya!」は200万再生を記録し、YouTubeでは「Nyan Cat」として1億6000万再生を超えて幅広く親しまれている。
daniwell is a multi-talented creator who composes, writes lyrics, designs, produces videos, and creates interactive content that utilizes computer programming.
daniwell's original Hatsune Miku song "Nyanyanyanyanyanyanya!" received more than two million views on Niconico. This song is also featured on the popular "Nyan Cat" video on YouTube, which received more than 160 million views.
Songle Sync とは?What is Songle Sync?
「Songle Sync(ソングルシンク)」は、音楽の再生に同期して、沢山のスマホやパソコンの画面に一斉に変わる演出を表示することができる新技術です。
"Songle Sync" is a novel technology that can drive hundreds of smartphones and personal computers to show graphic-based animations synchronized with music playback.

Songle Syncは、国立研究開発法人 産業技術総合研究所(産総研)が研究開発をして一般公開している大規模音楽連動制御プラットフォームです。今回は、daniwell氏が制作した特別版を初お披露目しますが、通常版はいつでもどこでも無料で使えるので、ぜひお試しください。周囲の方々と一緒にスマホやパソコンでアクセスすれば、好きな音楽を再生しながら一斉に変わるアニメーションを楽しめます。動画配信をせずに映像を自動生成する仕組みにより、通信量も小さく抑えられています。
Songle Sync is a large-scale music-synchronized control platform, which is publicly available as an outcome of research and development by the National Institute of Advanced Industrial Science and Technology (AIST), Japan. While this event features a special Songle Sync application developed by daniwell, you can always experience the power of Songle Sync on its official web site for free! Access the web site with your own smartphone or personal computer and invite neighbors to enjoy graphic-based animations synchronized with your favorite music. The animations are dynamically generated on your device so that the amount of transferred data remains compact.
関連イベント
マジカルミライ2018では、産総研が研究開発をして一般公開している歌詞アニメーション制作支援サービス「TextAlive」に関する「TextAlive講座」も開かれます。
Related Event
In Magical Mirai 2018, "TextAlive Learning Course" will also be held. TextAlive is a web service for creating lyrics-based animations, which is also developed by the same research group at AIST and publicly available.